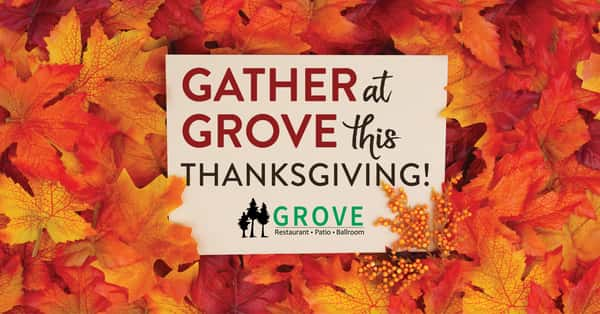 Thanksgiving Dinner at GROVE
We invite you and your loved ones to indulge in a Traditional Thanksgiving Dinner! Our Thanksgiving Feast menu includes fresh roasted turkey, house-made stuffing, mashed potatoes, gravy, sweet potato casserole, broccoli casserole, green beans, cranberry sauce, house-made dinner rolls, and house-made pumpkin pie. 

Our Holiday dinner menu will also be available. 

Traditional Thanksgiving Dinner 
Adults: $34.95
Children under 10: $16.95

*Please note that a Thanksgiving Grand Buffet is available in the ballroom. Reservations and pricing are separate from regular restaurant reservations. For details about the Grand Buffet, please visit that event page on our calendar.
Book Your Table